By: Rob Palumbo
There are a lot of paid marketing channels to choose from. New channels are constantly emerging. Existing ones are evolving. Consumer attention is fickle. 
After tapping out the usual suspects of Facebook and Google, the question "What channel should I test next?" is a common one asked by many in-house marketers.
To help answer this question, let's look at the evolution of the digital consumer marketing landscape and evaluate where things are going in 2021. 
2010s: The Golden Age of Facebook & Google
The 2010s was a golden era for digital consumer paid marketing. Circa 2015, the proven playbook for a high-growth digital consumer brand was to throw money into Facebook and Google ads and scale quickly -- with VC dollars in rapid supply. Classic examples of this playbook include Warby Parker and Bonobos, or more-recent upstarts such as Eight Sleep and Bombas who at one time reported spending 60%-85% of their ad budgets on Facebook (WSJ). 
The majority of digital consumer brands invest in Google and Facebook + Instagram ads first, and for good reason. They're self-serve, relatively easy to launch and measure, and work well for overall conversion -- to a point. While Facebook and Google are easy to test & scale for an initial period, every digital consumer brand we work with vocalized hitting a point of diminishing returns. Per Modern Retail, DTC drink brand Iris Nova reported that its customer acquisition costs on Facebook & Instagram 3X'd from 2017 to 2018.
Modern Retail: 'Costs just became unsustainable': The year Facebook fell out of favor with DTC brands
The advertising landscape has shifted. The cost to acquire new customers on the status quo channels has skyrocketed, especially Facebook, Instagram, and Google. Weighted customer acquisition costs are up over 60% over the last five years per a study from ProfitWell. Its simple supply & demand -- more brands demanding a limited supply of ad inventory and consumer attention. Marginal CAC often increases with audience saturation as you quickly attract 'less likely' customers with each additional dollar in spend. As ROI diminishes, the best option to sustain growth is to diversify acquisition mix.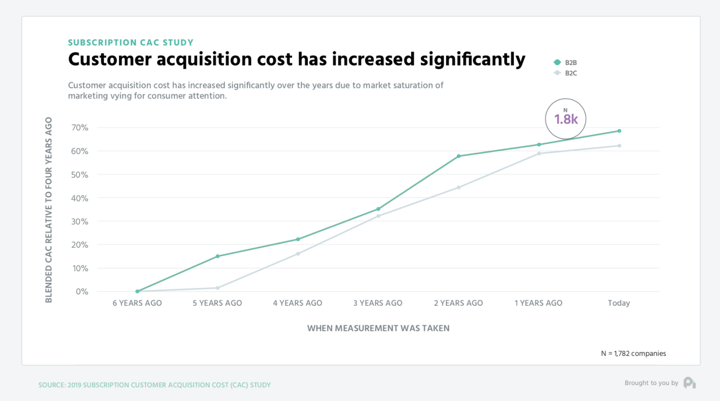 Digiday: 'The biggest conversation I'm having': Media buyers say advertisers are actively pushing to diversify away from Facebook
But how? Channel diversification is a challenging and uncertain task for a Growth Marketer, especially for digitally native brands that "grew up" with the ease of use and measurability of the Big Tech ad platforms. 
How To Decide Which Channel To Test Next?
Digital marketers are looking to move 30% of spend over to new channels in 2021 according to Digiday.  Whether podcasts, direct mail, or YouTube, diversification is an enticing proposition. In addition, digital brands are re-allocating spend into traditional media (print, OOH, TV, and radio) as well as emerging paid social channels: e.g., Snapchat, Pinterest, and TikTok. Not only are impressions and clicks cheaper on less saturated networks, but reach is growing rapidly.
Growth marketers ought to think like capital allocators when selecting channels, in search of winners that will provide a favorable return. You'll never know with 100% certainty — but there are processes and frameworks to prioritize and make better decisions. 
A first principles approach is to dig deep on your target audience, do research on where they spend the most time (online and offline), and then do a thorough channel evaluation exercise.
The key attributes we consider when evaluating channels from first principles are:
i)  input costs (how much will it cost in learning time and money?), 
ii) targeting (how well can we target our desired customers?), 
iii) context (can we reach customers in relevant buying moments?), 
iv) scalability (how much of the target audience is within the channel?)
v) expected value (i.e. return) (given all of the above, how likely are people to convert?)
At OutPoint, we take the above a step further with Media Mix Modelling (MMM)-based recommendations. MMM is a statistical technique that enables teams to quantify the impact of various marketing inputs on Revenue or Return on Ad Spend (ROAS).
The goal of MMM is to explain how much each marketing channel contributes to revenue and how much to spend on each marketing channel. It is the foundation for effectively optimizing a paid media budget across different channels.
OutPoint's models apply MMM principles in real-time, using advances in machine learning and causal inference. Our models are optimized to simulate new and current channels to empower your team to make more reliable spend decisions.
Combining the above with the following excellent chart from RightPercent should provide a signal in the right direction.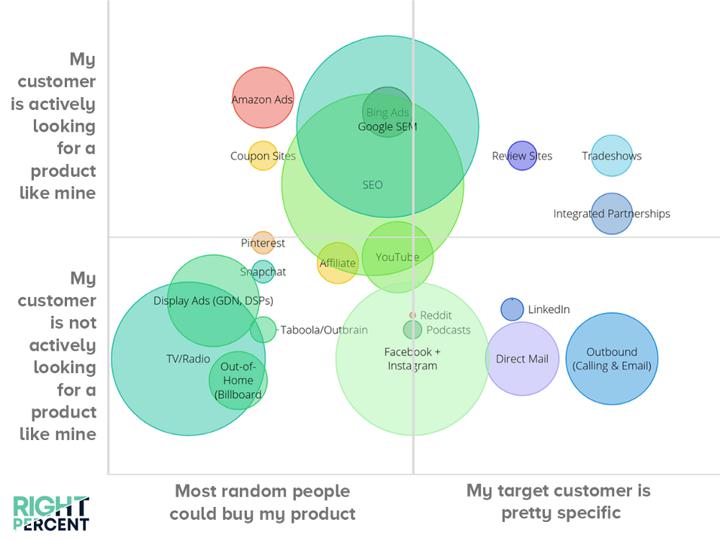 Below are some of the common pros and cons of channel diversification:
Pros of channel diversification
Revenue growth

. Your company can drive more sales. A more diverse mix also provides increased optionality for when you need to grow fast. On a revenue base of $5M, every 1% lift in revenue is valued at $50k.

New audience

. You can reach new audience segments, which may be more profitable or aligned with strategic goals.

Potential for Lower Marginal CAC:

As a user shifts unprofitable spend from saturated channels to new channels, average CAC can decrease. At $2M ad spend, every 1% optimization in cost is valued at $20k.

OutPoint's marginal CAC and ROAS curve analysis allows you to see how much additional budget you should invest into a channel (or how much you should dial back!)
Cons of channel diversification
Measurement.

As you add more channels, it can become harder to deduce which activities are driving results, especially for offline channels.

OutPoint's

advanced growth modelling imputes value to each of your online and offline channels using econometrics, machine learning, and causal inference.

Time and cost of management.

Every channel is unique and time-intensive to manage. There are learning costs and very good reasons for risk aversion.

For every new digital channel, a marketer needs to learn a new workflow, set up accounts, payment methods and pixels/integrations for measurement. Offline channels can be even more challenging to access: the time to plan & purchase a campaign can take weeks and require constant back and forth with an agency or directly with a media company.

Creative considerations.

Creative requirements vary by channel. Depending on the channel you're investing in, you need to make sure you have the design and/or budget you need to produce creative on a recurring basis.
Fortunately, the costs of creative production have plummeted in the last decade for a few reasons:
i) an ever-expanding source of free or low-cost stock photography and video for base assets
ii) lower costs and greater accessibility of talent thanks to remote
and
iii) greater emphasis on authentic, user-generated content (see TikTok or Cameo; all you need is an iPhone to get started)
Conclusion
The circa 2015 direct-to-consumer growth playbook no longer works in 2021. Flat out. Driving aggressive paid growth without an organic foundation or diverse mix of traffic is no longer economically viable for the majority of brands. So digital brands must adapt and diversify.
Are you looking to diversify to a new channel in 2021? OutPoint can help. We use technology to help digital brands marketers diversify paid ad spend and discover the benefits of an optimized marketing mix.